For different seniors, there are different levels of care. When considering which level is correct for you or your loved one, it's important to know the similarities and differences, such as what "Enhanced" means when comparing Assisted Living vs Enhanced Assisted Living.
What Does "Enhanced" Assisted Living Mean?
Enhanced refers to a higher level of care, often more personal and medical support services, than traditional Assisted Living. Some of the services provided in Enhanced Assisted Living at Home of the Good Shepherd include but are not limited to assistance with mobility, incontinence care, and assistance with feeding, dressing, and bathing.
In most cases, all of the assisted living services are provided to enhanced assisted living residents as well as their higher level of personal and medical care. For example, at Home of the Good Shepherd Assisted Living and Enhanced Assisted Living residents enjoy warm and inviting private modern suites, three freshly prepared meals created with in-season ingredients, laundry, and housekeeping, exciting social activities such as scenic rides, entertainment or lunch outings, a full-service beauty/barbershop, and transportation to doctor's appointments. 
In addition, both levels of care offer medication management, assistance with Activities of Daily Living (ADLs), and total assistance with ADLs including bathing and showering. When included as part of an Enhanced Assisted Living level of care, these services promote healthy, independent living for seniors with a wide range of personal and more intensive medical needs.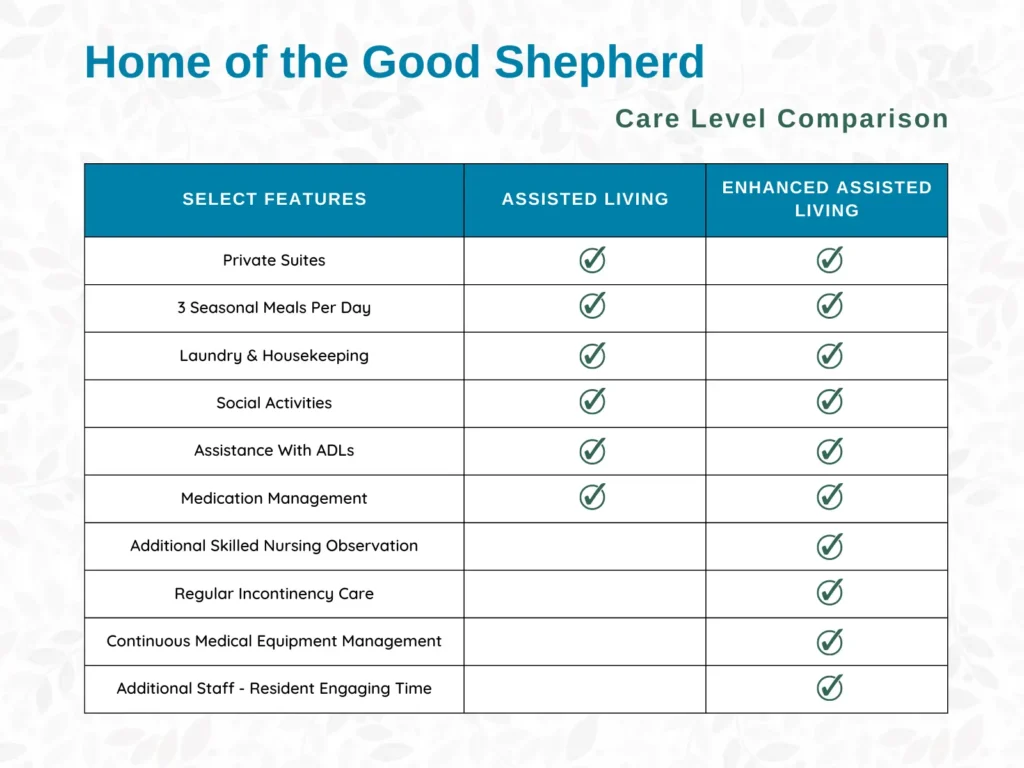 Enhanced Assisted Living Residence Regulations
Each state has its own regulations for the different levels of senior care. Here in New York State, the below regulations from the New York State Department of Health Licenses must be met before a facility can be awarded the EALR (Enhanced Assisted Living Residence) license.
Many senior living organizations use this as a guide for their "Enhanced" services. Home of the Good Shepherd is always looking to exceed these regulatory levels of care in order to provide the highest quality of support needed for each of our residents.
How To Find Great Enhanced Assisted Living Facilities Near You.
While an online search will be the first place you can start, being at the top of the results is only one piece of the puzzle. Speaking to current or former residents' families is a great way to assess how your or your loved one would be treated. Reading reviews and testimonials also gives an unbiased view of the experience residents, families, and former staff members have had with an organization.
One of the most important opportunities for finding out more about a facility is by scheduling a tour. By walking through the location, speaking to the residents and staff, and seeing what activities and food options are offered, you will get a great sense of what type of experience your loved one will have.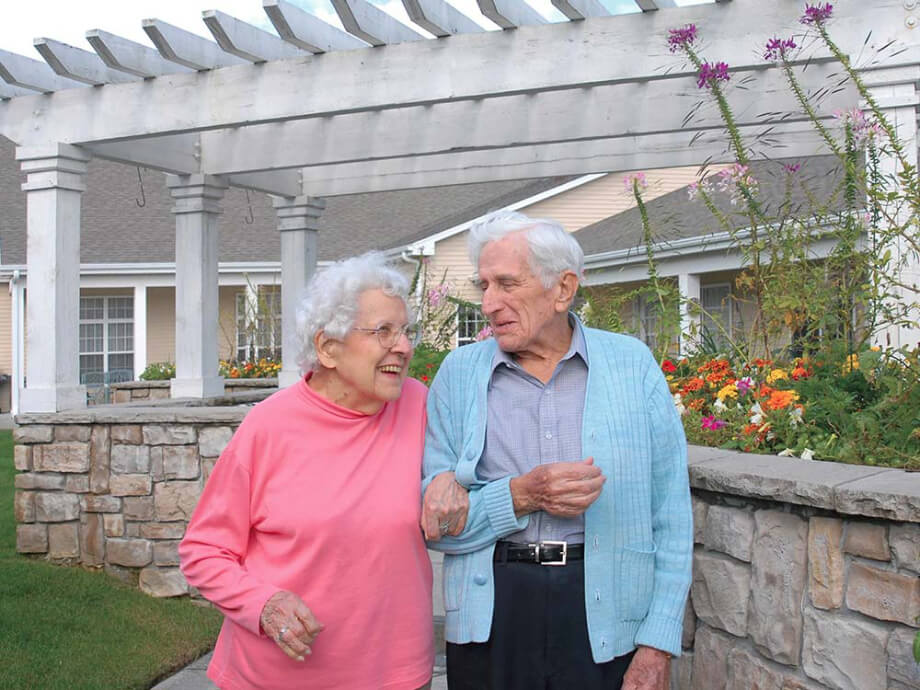 A Trusted Enhanced Assisted Living Facility
Home of the Good Shepherd aims to provide the highest quality of services, support, and engagement for all levels of care. Our Enhanced Assisted Living programs are designed to enrich our residents' lives through engaging activities, and delicious seasonal foods while meeting their individual medical and personal needs.
Enhanced assisted living is available at our Malta, Moreau, Saratoga, and Wilton locations. Schedule a tour today and read our testimonials to start ensuring an engaging and supportive future for your loved ones.